Today's photo set may be mainly of interest to our member photographers or hobbyists - this is from a recent lighting workshop, where we used various lenses, focal lengths, and strobe arrangements to capture a number of different looks of local fashion model, Kathleen. You'll notice the longer lenses make her look a bit heavier ("the camera adds 10 pounds!"), while wide angles appear to stretch the face and body somewhat. The lighting was kept as a single source, off to the side, which also adds to the drama, especially with the wide lenses.
Picture of The Day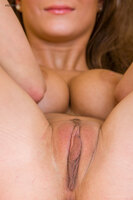 All photographs © Craig Morey, unless otherwise noted.
All models are over 18 years old, you must be at least 18 to access this site, which is based in the United States
No use of any image or text from this site is permitted, in any media, without prior written permission of the copyright holder.

CCBill Billing Support | Epoch Billing Support

18 U.S.C. § 2257 Record-Keeping Requirements Compliance Statement.

Please visit https://www.epoch.com/ our authorized sales agent.